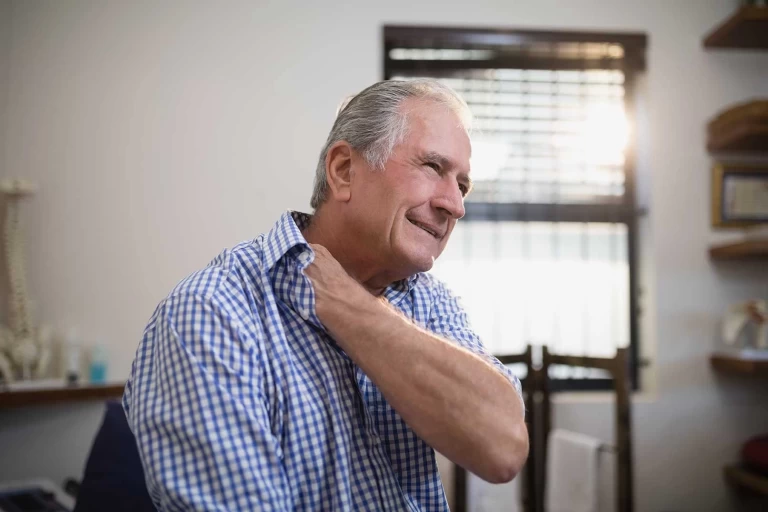 Neck Pain Specialist Sarasota and Tampa Bay
If you have chronic neck pain then seeing someone who is a neck pain specialist makes sense. Doctors trained in upper cervical chiropractic care focus all of their attention on specifically locating where a joint in the neck has misaligned from prior injury. Most neck pain results from injury to the soft tissue surrounding the cervical spine joints. Loss of motion in the joints leads to chronic neck pain. Unfortunately the large majority of people who suffer with chronic neck pain take over the counter medication to get relief. Our current health system doesn't look for causes they only treat symptoms with medication that is temporary and long term can cause issues with the stomach, liver, and causes toxicity in the body. Removing the underlying cause of neck pain leads to the best long term outcomes.
Neck Pain And Acceleration deceleration injury - neck pain specialist Sarasota and Tampa Bay
By downloading the ChiroWebMD mobile app you can better control your patient portal.
Acceleration and deceleration injuries (whiplash injuries) are injuries that result from blunt type trauma. Any injury that causes forces large enough to displace a joint in the neck and cause soft tissue injury is an acceleration deceleration type  injury. Life is rife with trauma: car accidents, sports injuries, slips , falls , and other trauma. These injuries can cause the joints in the neck to misalign , tear the soft tissue, and set the stage for chronic neck pain. If you do not address the underlying cause of loss of joint motion you will only get temporary symptomatic relief. While medication, massage, and stretching can help it is better to correct the underlying biomechanical  of chronic neck pain. Getting to an upper cervical doctor can be your long term solution to recovering from chronic neck pain. Don't take our word for it, listen to what our patients are saying!
Verified google review:
"I went to see Dr. Hall this week after a whiplash injury that left me with chronic headaches, neck and shoulder pain, ear problems, and halos in my vision. After doing extensive research about Upper Cervical, I decided to fly from Michigan to Sarasota so that I could be seen by Dr. Hall. He examined me and then scanned me using a cutting edge 3D Cone Beam CT Scan (the scan literally took 10 seconds, I was amazed) and then showed me exactly where I was out of alignment. There was a very noticeable subluxation in my axis (C2) and my atlas (C1) was also out of alignment to a lesser extent. He adjusted my axis first, then gently turned me over and adjusted my atlas, and the headache that I had had since the injury was INSTANTLY gone. That night was the first time I had been able to get a good night's sleep in weeks. I owe Dr. Hall my life, and if you have any reservations about seeing him for your health concern, just know that he's the best at what he does and that you're in very skilled hands. I was scared to get adjusted but Dr. Hall only delivers precision adjustments exactly where you need them so he's not "cracking your neck" like regular chiropractors. I am beyond grateful... thank you so much Dr. Hall, you gave me my life back!
If you would like to here real live patients talk about their recoveries from a plethora of health conditions click here:
After you get your upper cervical spine corrected there are many things you can do to heal faster and limit exacerbations!
A. Proper ergonomics can go a long way in helping you heal faster and limit exacerbations after getting under upper cervical care.
Proper desk ergonomics: Many people sit all day long at a computer. Having the proper chair, monitor height, and headset for a phone can go a long way to reduce stresses and strains on an already compromised neck. Frequently getting up and down while at a desk job can make a huge difference in limiting persistent stress to the cervical spine, low back, and other spinal structures.
B. Long commutes and ergonomics in the car.
Most of us slouch while sitting, especially in the car. If you drive more than 15 minutes to and from work getting a lumbar support to force you in an upright position can make a huge difference in limiting abnormal stresses in the spine that can exacerbate underlying structural issues caused by injury in the past.
C. Counteracting stress with the towel roll exercise.
Daily living is rife with stresses and strains. Lying on a rolled up towel for 5-10 minutes a day can pay huge long term dividends.  Most of our daily activity encourages forward head posture, slouching, and both of these can cause long term problems in the spine. To understand what the towel roll exercise is listen here!
What Exactly Does an Upper Cervical Doctor Do?
Blair Upper Cervical doctors are specially trained to locate spinal misalignments in the upper cervical spine and correct them. Spinal misalignments are located by running a battery of neurological tests that locate the spinal segments that have been injured and misaligned by a prior neck injury.
Once located, precision imaging in the form of digital x-ray or cone-beam computed tomography (Cbct) is used to precisely determine which joint has misaligned and the angulation of the misaligned joint. Each person's anatomy is different and therefore imaging is used to uncover the blueprint to be used to correct each patient's individual misalignment pattern. Once this information is gleaned, a gentle, light correction is made without twisting, popping, or pulling. The patient is then monitored over time to ensure that the correction is holding. If the testing indicates the need for another correction, then it is performed. However, the goal of Blair Upper Cervical Care is for the patient to stay in "adjustment". It isn't the correction that produces healing. It is the removal of nerve irritation and the adjustment "holding" in its normal position that allows the body to function better and proceed through a healing process.
This is how Blair Chiropractic care can often help remove the underlying cause of many who suffer from occipital neuralgia, tinnitus, Vertigo, Meniere's disease, neck pain, migraine headaches and other chronic health problems by supporting the body in healing itself.